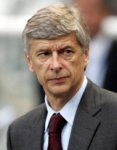 Arsenal Manager Arsene Wenger saluted another goalscoring milestone from Robin van Persie in a 3-0 win at Wolves last night.
Van Persie netted against a 17th different Premier League team in the same season with his penalty at Molineux and has only failed to hit the target against Manchester City and Fulham.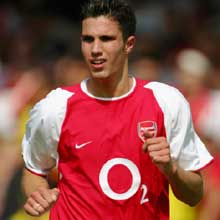 It equalled the achievement of former Arsenal striker Ian Wright, who scored against every other side bar Manchester United and Sunderland in a 38 game season during the 1996-97 campaign.
Wenger said: "Robin has equalled the record of Ian Wright and it is absolutely remarkable in the modern game to do that.
"I'd like to congratulate him. When you think you only have 19 competitors and your striker scores against 17 of them, that is something sensational.
"He could have beaten the record if he had scored against Man City at the weekend and also Wolves.
"But he hit the post twice against City and Thomas Vermaelen saved one on the line!"
Third placed Arsenal can go eight points clear of Tottenham if they win against Wigan on Monday.
But Wenger is taking nothing for granted after the way the Gunners clawed back an eight-point gap from their north London rivals in barely two months.
He said: "I'm very happy to be in this position but I'm as well very cautious because some teams were in that position beforehand have been caught up.
"We want to win our next game and, because of where we have come this season, I feel will help us be focused."
Arsenal played against 10 men for 80 minutes after Wolves defender Sebastien Bassong was sent off for holding back Theo Walcott in the move which led to Van Persie's spot-kick.
Wenger said: "With the punishment, the referee has no choice according to the rules but rules look a bit harsh when you get a penalty against you and you lose the man as well.
"It spoils the game for the supporters a little because they know they have little chance after to come back."
Wolves are now nine points adrift of safety after a seventh successive defeat and looking doomed to relegation.
Manager Terry Connor said: "It's a tough time for us and things seem to go against you when you are bottom of the league.
"I can only ask for the same spirit and togetherness from the lads over the next five games.
"We know, having seen the other results and the table, it is going to be very, very difficult for us to get out of it.
"I can't control other results. All I can say is if the lads produce five more performances with the same guts and determination as against Arsenal, that's all I can ask for."