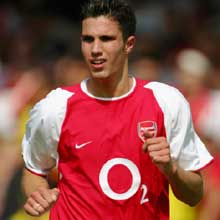 Arsenal striker Robin van Persie admitted a "gamble" put the icing on the cake of Arsenal's 125th anniversary celebrations on Saturday.
Skipper Van Persie struck a stunning 70th-minute left-foot volley to clinch a 1-0 victory over Everton at the Emirates Stadium as a host of legends looked on from the stands.
It was Van Persie's 19th goal of a remarkable season and moved the Gunners into the top four of the Barclays Premier League on the back of a run of seven wins in their last eight matches.
Although the Dutchman was delighted with the latest success, given his run of form of late he was far from happy with his own display.
"It was vital to stay on track and get the three points," Van Persie said.
"It was a hard game against a good Everton side.
In the end, very pleased.
"We've been solid at the back for a couple of weeks now, I mean really solid, lots of things coming together.
"Then you know, as a forward player, one chance can be decisive.
"It was a great pass again from Alex Song, unbelievable.
He is a defensive midfielder, but the amount of skill he has is just a dream.
A great pass from him.
"Normally I would have touched (the ball) to get it right.
It was a bit of a gamble, but in the end a very nice goal inside the post.
I can't wish for more.
"But it wasn't a great game in my opinion, especially from myself as too often I had touches which did not go the way I wanted.
"I'm not really happy with that, with my own performance, but pleased with the win." Van Persie felt the occasion played its part given the build-up to a historic game for the club.
"It was special to see all the legends - Ian Wright, Thierry Henry, Alan Smith - all of them," said Van Persie.
"It was very nice they were all in one place, and I'm very pleased we could give them three points." Despite the self-criticism, goalkeeper Wojciech Szczesny hailed Van Persie as a "magician" and an inspirational skipper.
"He is just the best finisher in the world," Szczesny said.
"Any time he touches the ball in the penalty box he looks like he is going to score, so we appreciate having him at the club, and we hope he can keep it going.
"He's always had the quality.
It's just that he's been very unlucky with injuries, a few setbacks in his career.
"But ever since he became captain, he's been fantastic, someone who leads by example and he matches his attitude with his performances on the pitch.
We're very pleased to have him."