Usmanov offers to buy more shares
2011-10-12 21:23:01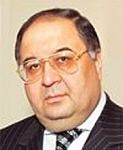 Arsenal shareholder Alisher Usmanov has written to select small shareholders in a fresh bid to take his stake in the club over the 30% threshold, with £14,000 per share on offer.
The Russian businessman's Red and White Holdings currently owns 29.35% of the Gunners and he is looking to purchase at least another 405 shares to take their stake to the mark that would usually force them to make a formal takeover bid.
However, 66.7% of Arsenal is held by rival investor Stan Kroenke - who became majority shareholder earlier this year - and there is an agreement in place which means Usmanov will not need to attempt a doomed takeover.
Usmanov, though, would then be subject to the Premier League's owners' and directors' test - their updated fit and proper persons' test.